Products
Features
Direct Playback from an SD Memory Card
The VE-801SDi plays back video directly from an SD memory card, with no need to download files.
Large memory capacity of 384GB (128GB SDXC ×3), with additional add-on space available.
Built-in memory for evergreen content with high speed data loading from USB port
Implementation workload

Implementation process
Plug-and-Play compatibility
The VE-801SDi provides true plug-and-play ease of use due to its high compatibility with many currently installed 8mm/Hi8 and VHS-based reproducers. And the VE-801SDi supports RS232C, RS485 and TTL serial control interfaces.
Therefore, there is no need for extra installation or aircraft modifications.
No need to change the aircraft's current ground system
The VE-801SDi is compatible with many current Hi-8mm and VHS-based reproducers, so there is no need to change the aircraft's current system.
Just plug-in and play!
Content protection
Supports encrypted content using an RSA / Triple DES / AES algorithm.
Easy-to-use touch panel
With a front touch panel LCD designed to be intuitive and easy to use, the VE-801SDi provides great visibility for checking images.
The customizable menu screen also allows you to manage playlists using the touch screen panel.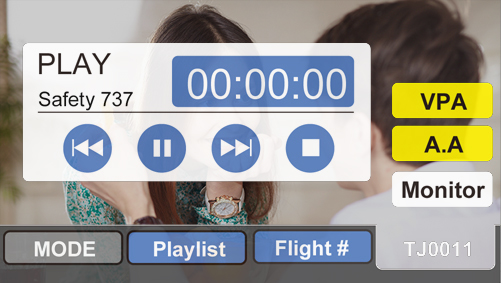 Maintenance free
Solid state media requires no maintenance or head-cleaning, so no extra costs!