About TEAC
TEAC was originally founded as Tokyo Television Acoustic Company in August 1953. Its goal was to be a leader in magnetic recording technology. Over the years, the challenge to be at the cutting edge of data recording technology has pushed the company forward.
The guiding principle of TEAC is to enrich our society through our innovative products. For over 70 years, TEAC has been well known for video, image and sound recording technologies.
TEAC has a long history of developing technologies and new aerospace product families to meet evolving user operational requirements in military and commercial aerospace markets. With the focus on quality and reliability in mind, TEAC continues to develop convenient and easy to use solutions that meet and exceed the needs of our customers and partners.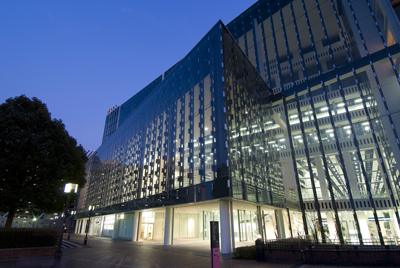 A record of human endeavors
Human culture can trace its heritage back to three things: fire, tools and language. Spoken words were first recorded as handwritten words, followed by the introduction of the printing- press, allowing documents to be widely accessible to the general public. Human memory, on the other hand, deteriorates overtime, making it unreliable for precise intellectual activities.
To compensate for this, accurate recording, storing and playback technology is indispensable for human progress. Therefore, advances in recording technology have been an integral element in the expansion of human thought and analysis. We all bear witness to the emergence of new ideas brought about by the ever increasing advancement of information and recording technologies.
From paper to electrons, the format of information and data storage is constantly changing.
As larger and larger databases are integrated into information systems, digital data storage will continue to play a key role in the establishment of new directions of creativity.
INFORMATION PRODUCTS
Combining high-precision recording and communication technology that leaps ahead in its field for information devices
By integrating recording technologies for all types of information, including sound, images, data, etc. with the remarkable advances being made in communication technologies, TEAC is steadfastly meeting the challenges of developing high quality technology, products and services that customers demand. TEAC is poised to make a major leap forward in the field of information technology.
Measurement Devices
Technology to Measure, Collect, and Integrate data for analysis
By developing and producing measurement and analysis devices, marketing and providing support, TEAC will contribute to R&D, basic technology development, and labor-saving at manufacturing sites in the industrial, disaster prevention, environmental, and basic medical sectors.
After a measurement device measures and collects data, that data is recorded and integrated during the analysis and processing stages. The data thus compiled will yield valuable information for customers.
Video and Image Recording Devices
Integration of Video and Image Recording Technologies with Vibration and Impact Resistant Technologies
TEAC is highly regarded around the world for its image and video recording technologies employed in special VTRs that can be used under harsh environments such as those encountered in space exploration. We also offer disc recorders for large-volume medical images for ultrasonic, microscopic, funduscopic examinations.
Using basic technology for high-precision mechanics and image compression, we are developing new video and image recording devices for these image monitoring markets.
In-flight Entertainment Products
In-flight entertainment in the skies worldwide
TEAC has developed in-flight entertainment video players based on years of research into VTR technology.
The device is designed for use under harsh conditions, so it features durable, compact and light weight design, as well as low power consumption. Perfectly fulfilling all of the requirements for passenger planes.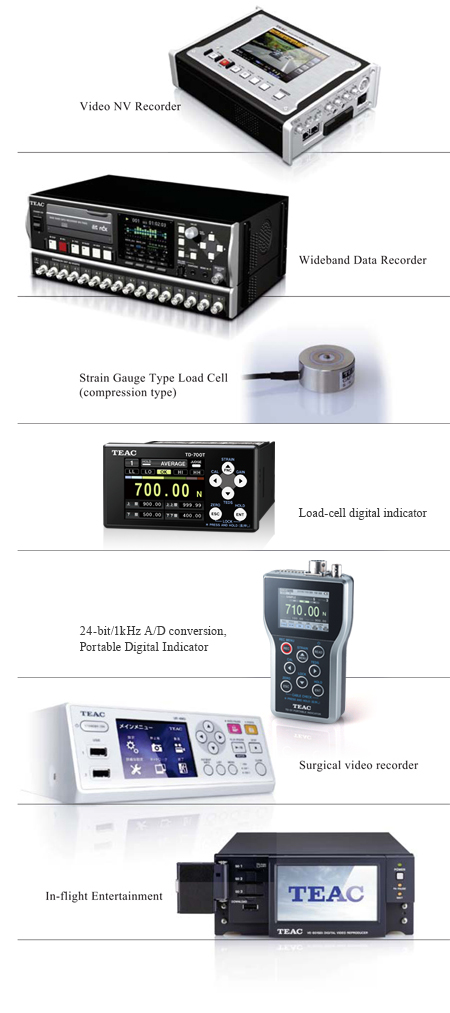 AUDIO AND VIDEO EQUIPMENT
From analog to digital recording and playback, the driving force behind the development of global audio products has been a quest for the most advanced technology
TEAC started developing audio products from the very first days of its history. The first audio product produced was designed by TEAC founder Katsuma Tani and shipped in 1939. More than half a century later, substantial expertise in magnetic recording technology has culminated in the development of a range of outstanding audio products. That early knowledge helped to set the stage for Japan' s emergence as a major player in the electronics industry. The drive to enhance audio and video technology for years to come continues to motivate us to confront new challenges.
High-end Audio
Products for genuine music lovers, with TEAC's pride and conviction as standard
Great audio comes from a passion for music. Music has the power to recreate the deepest emotions; TEAC' s high end brand, ESOTERIC has caused a sensation in the Japanese High-end audio world by continuously creating products that can capture the essence of the moment with the most state of the art technology. ESOTERIC is leading the world with its mastery of sound.
Home Audio products
Design and functionality that surpasses tradition Enjoy audio and discover new music on multiple devices with optimal compatibility
Everyone can know the joy of listening to music. TEAC creates home audio products with the technology and creative thinking to allow you to incorporate music into your everyday life. Not just design, but functionality and usability have to be considered for a great product. From the newest digital media to the most reliable analog record player, anyone can experience a variety of media from past to modern day with these great products.
Pro & Broadcast Industry Audio products
The design of recording and playback equipment that began with Japan's first television broadcast, enters a new era with heightened sensitivity
Music is the product of a refined sensibility. In this domain, TEAC has consistently maintained the principle of faithfully reproducing the real essence of sound in recording and playback. During the postwar reconstruction period, TEAC was acclaimed for the design of its recording and playback systems used by Japan Broadcasting Corporation (NHK). TASCAM products and recording and playback systems have reformed the world of creative sound.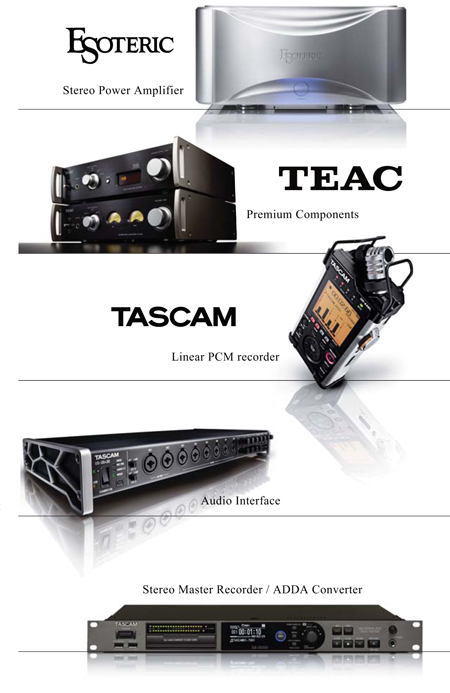 History of TEAC brand
1950's

TEAC began providing advanced audio and video recording and playback equipment to the NHK Japan Broadcasting Corporation, and developed the world's first slow motion color video recorder for the 1964 Tokyo Olympics.

1972

TEAC developed the world's first videotape cassette, and designed the world's first true airborne video recorder for use in aircraft high performance and reliability environments.

1996

TEAC developed a new line of In-Flight Entertainment products based on this NASA certified technology, designed specifically for the stringent qualification, performance, reliability and logistic supportability requirements for commercial airline operations.

2004

TEAC spun-off the digital Airborne Video and In-Flight Entertainment business as a separate company, TEAC Aerospace Technologies, which was acquired four years later by Goodrich and then United Technologies.

2014

TEAC is returning to our legacy IFE business with an all new solid state video reproducer.